Click on the Categories below, or if you have a specific question simply click on the magnifying glass to enter search words.
​
​
Irrigation Design;
What size should my zones be?
---
coming soon.
---
Which dripperlines can I use?
---
---
What is the most efficient way of designing the mainline?
---
coming soon
---
Should my zone valves be uphill or down hill from the zone?
---
coming soon.
---
---
Irrigation Installation;
How do I join PVC mainline to 3/4 poly distribution tube?
---
coming soon.
---
Can I use 1/2 tubing for distribution, or use 1/2" dripperline as distribution?
---
coming soon.
---
Does the dripperline need to be buried (landscape beds)?
---
coming soon.
---
How deep does dripperline need to be below grass / sod / turf / seed / hydromulch?
---
coming soon.
---
---
Pumping Basin;
How much Water does the Collection and Pumping Basin store?
---
coming soon.
---
Can I add an extra Basin to increase surge capacity?
---
coming soon.
---
Can I use my own storage tank with IrriGRAY?
---
coming soon.
---
Can I just turn off the system if I don't need graywater in winter?
---
---
Can I get a stronger basin lid than the standard plastic lid?
---
---
---
Controller;
My controller tablet does not seem to connect or maintain connection to my wifi?
---
You may be experiecn
---
The GFI / GFCI seems to trip a lot - what can I do?
---
coming soon.
---
Will the tablet restart after a power failure?
---
coming soon.
---
Can I use a network cable to connect the controller to my network?
---
coming soon.
---
Can IrriGRAY work without a wifi connection?
---
IrriGRAY operates fully with or without Internet access, and does not require internet access for programming. If wifi is connected, the tablet will automatically refresh its program settings from the internet each morning. Programming changes should only be made via the irrigray.com website if the tablet will remaing connected via wifi. If the wifi connection drops out for any reason, the tablet stores important event information on board, until wifi reconnects. The tablet then send these historical events to irrigray.com
---
Do I have to continue subscribing to monitoring after the first free 12 month period?
---
Montoring is not compulsory - But it is very important for most clients. Sub surface drip irrigation is the most effective and efficient form of irrigation, and absolutely required by code for graywater irrigation. However if something goes wrong, you can't see their is a problem until the zone/s landscape is starting to show lack of water stress, such as going brown. With monitoring in place, the team at IrriGRAY / Water ReNu will notify you - or your landscape maintenance contractor if you have one - of any issues. Examples of system performance being monitored include: - Power issues, such as power failure or tripped GFI - Potable Water (or rainwater pump) supply issues - Damaged mainline causing high flow and loss of pressure - High water levels in the pumping basin, indicating a hooked up pump float switch - Individual zone flow rates and pressures, especially related to zone solenoid valve failure - Many more. Monitoring also includes live weather updates, optomizing water usage; system updates and water consumption charts. If you choose to not continue with the monitoring program, we do recommend you maintain the wifi connection. Water ReNu will continue to monitor power issues and high water levels in the pumping basin. The monitoring fee is a very reasonable $8 per month, or $88 per year (1 month free).
---
Which Rain Sensor should I use?
---
---
What happens when the Rain Sensor is triggered?
---
---
How do I connect the Controller to my Wifi network?
---
IrriGRAY includes a 7" Android based tablet as the on-board computer. You do not need to know how to use Android, other than following these directions to connect the tablet to your Wi-Fi network. Step 1: Turn on the tablet Press and Hold the Power Button, located at the top right corner, until the 'Dragon Touch' logo appears on the screen. The tablet will take about 1 minute to boot up. If the tablet display is blank, it is in screen saver mode. Press the Power Button quickly to show the screen, and swipe the padlock to the right to unlock.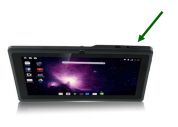 Step 2: Go to Settings Press on the Gear Icon to enter the settings page. If you do not see the settings icon on the main page, press on the 6 white dots icon to go to all apps. Be sure to press on the standard Settings Icon - NOT the Google Settings Icon.
Step 3: Select Wi-Fi Network Press on Wi-Fi to see the list of available networks, and then Press on your Wi-Fi Network Name.
Step 4: Enter Wi-Fi Password Enter the Wi-Fi password, press Done on the keyboard, then Connect on the Wi-Fi connection screen.
Step 5: Check your Time Zone Press on the back button at the bottom of the screen, to go back to the main settings page. Press on 'Date & Time' to check your time zone settings.
Step 6: Restart / Reboot Tablet Hold the Power Button until a box appears with the option to Reboot
---
The tablet is asking for login details "Login to IrriGRAY Smart Controller"
---
The IrriGRAY application starts automatically each time the tablet is turned on, but will take a minute or more to load. You Do NOT need to start the application again—Wait for the application to self load. Note: Just like cell phones and other tablets, the IrriGRAY tablet works better if it is rebooted. You don't need to do this, IrriGRAY automatically reboots at ~ 2.10am every morning.
Enter the TABLET LOGIN NAME you created when you set up the new installation in IrriGRAY Online. Enter the tablet PASSWORD as well. Note: This is the IrriGRAY Tablet login details, NOT the Wi-Fi password.
---
---
Charts
---
Trouble Shooting / System Test;
How can I tell if the tablet is communciating with the electronic circuit boards?
---
coming soon.
---
How can I test if the Filter valves / motors are working correctly?
---
coming soon.
---
What is the full test procedure to check all hardware systems are working correctly?
---
---
---
Graywater;
Which graywater sources are best for Irrigation?
---
Graywater re-use for New Homes is simple if the Plumbing Design is changed to Dual Waste prior to pouring the foundation. ​ It's really quite simple. Just have all baths, tubs and laundry waste plumbed to a second waste pipe, looped back into the black waste line, at least 6' from the foundation — leaving room for the pumping basin for later installation, or install the basin at the same time as foundation plumbing rough-in. ​ We have found the average additional cost for dual plumbing in a new home ranges from $300—$400; a very small investment for the future landscape potential and protection provided. Other suitable sources include AC Condensate & Foundation Drain water. Note all states permit these additional water sources. They may be called alternate water sources instead of graywater, but in locations such as Texas, state codes allow the use of these types of water with graywater irrigation. ​ Avoid Hand Basins / Lavatories. ​ Although waste water from these sources is classified as Graywater, our experience is this water is better utilized in the black water line, assisting in washing kitchen and commode solids down the line.
---
Is soap ok for my landscape, and which soaps / detergents should I use?
---
Soaps help with Irrigation, if spread over a large area ​ Surfactants in soap and detergents help irrigation within soil by reducing water surface tension, making it easier for water to move within the soil. However if a large amount of soapy water is concentrated in a few holes in the ground, this could result in toxic buildup over time. This is why reservations have been raised about concentrated irrigation methods such as Laundry to Landscape and Branched Drain gravity systems that have a limited number of mulch basins as outlet locations. ​ Because IrriGRAY uses a large number of sub surface emitters covering thousands of square feet, any soap is dispersed over a very large area and therefore does not create toxicity issues. It is even possible to use aggressive agents such as chlorine e.g. Chlorox without issue. ​ If you are concerned about soap in the environment, we recommend first considering the dangers of soap and detergent use inside the home. For example, instead of using very strong shower cleaners that produce potentially harmful vapors, trial some citrus oil based cleaners that do almost as good a job but present far less personal safety risk. ​ Liquid vs Powder Laundry Detergent ​ Powdered laundry detergent usually has at least 50% filler content, and of high sodium levels. Therefore Liquid detergents are preferred. Note that some manufacturers are claiming their products to be 'green' simply because the detergent container is made from recycled plastic, rather than any particular 'green' effect from the active ingredients. ​ Bar Soap (Hand Basin and Shower Use) ​ In the Graywater Collection section of this course, we discuss avoiding hand basin graywater where possible, but some locations such as Tucson, AZ have mandated the use of this water. Bar Soap, especially cheaper products have very high fat content. These soaps should be avoided because they can result in a layer of fat building up on top of or within the soil. Fats also build up quickly on the filter requiring more frequent flushing. ​ Hand Soaps / Shower Shampoos and Gels are preferable for the environment and the filter alike! ​ Boron based Soaps (e.g. Borax or similar) ​ Boron can be toxic to plant life in medium - large quantities and should be avoided. Fabric Softener Like cheaper bar soaps, Fabric Softeners can contain significant levels of fat, therefore creating soil and filter issues. We recommend using dryer sheets instead of liquid fabric softener.
---
What does IrriGRAY do with graywater during winter?
---
---
What effects will graywater have on my landscape?
---
---
---
Filter;
Does the automatic filter screen / discs need regular replacement?
---
coming soon.
---
How can I tell the controller to clean the filter right now?
---
---
---